Photos can be viewed by clicking on the Game Link to the left. We are requiring a $30.00 deposit to focus on your son or daughter. This will go towards the purchase of the photos. Click the Buy Now button to make your deposit.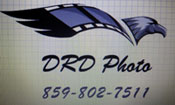 For additional packages, please SEND US AN EMAIL.
SPECIAL REQUESTS - If you want a particular player photographed please let us know and we'll make sure to take some good close-up action pictures for you.